Bright Orange Handle Cabinet Claw Installation Clamps Review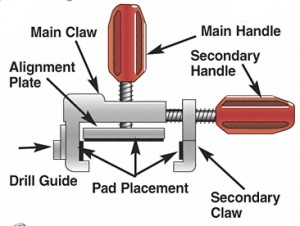 You have to see the video below of these bright orange handle clamps designed for installing cabinets. The product in our review is called "Cabinet Claw
." These are the most amazing cupboard installation clamps I've seen in my twenty nine years of being in the kitchen and bathroom design industry.
An age old problem that cabinet installers wrestle with on a daily basis is walls not being plumb, level and square. They always have humps and bumps in them that create horrible difficulties when trying to get the faces of cabinets to align with one another.
These orange handled Pony Cabinet Claw
clamps have all of the features that are needed to help the armature or professional install kitchen or base cabinets with ease.




Most professional installers hang upper cabinets by themselves. This can be a challenging process at times when you are trying to work out an area where there is a pushed out section of drywall that causes the face-frames of cabinets to not align properly.
The thing I am so impressed with, in rearguards to these orange handle clamps, is that there is a main handle that applies pressure on the out of alignment face-frames to force them to align perfectly.
With traditional clamps for installing cabinets, when you have to loosen one a little to try and flush up either the top or the bottom of the frames, the other tends to get out of alignment. With the orange handled cabinet installation clamps, the claws pull the back of the face-frame as the main clamp claw forces the front of the wood frame flush. Once you have the frames locked in flush with each other, they don't really move out of adjustment.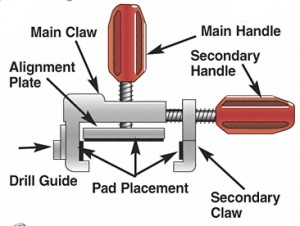 The other feature I like is the built-in drill guide. This is a handy feature to have because it allows you to drill a hole that is guided in the center of the face-frame. Most cupboards have hardwood frames that can be difficult to drill into at times. The drill guide helps the cabinet installer to drill a perfectly centered hole even when the wood is so hard that it demands excessive force.
Once the hole is drilled, the drill guide can then be easily flipped out of the way to make enough room for the screw to be installed through a larger hole underneath.
I give these red handled cabinet installation clamps two thumbs up!
I say that they are well worth the investment because anyone aspiring to be a woodworker will be able to find other applications where these clamps can be used.
My final thoughts about using these claw clamps for installing cabinets are that you need to be careful to not twist or rack the cupboards out of shape. Keep in mind that when you are forcing something to align-something else has to give. Just be sure that when you are using these orange handled clamps to get the frames flush that you are also inserting shims between the wall and the cabinet backs, to ensure that you are not making the cabinet twist out of square. After you have everything screwed together and installed, take a moment to place your level and square on the cupboards to review them for uniformity.
The orange handled cabinet installation clamps can be a great asset if used properly. If not used correctly a cabinet installer can cause serious problems in the cabinet door alignment.
To purchase this item go here: Cabinet Claw