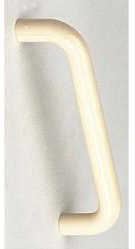 I had a customer the other day who requested that I put 96mm or 3-3/4 inch almond wire handle/pulls on her cabinet doors. I thought I would be able to find them in stock at Home Depot or a local cabinet supply company.
I was totally mistaken.
There were no almond nylon (plastic) loop pulls on the shelves of the super center.
In fact there was no evidence that a bin had that style and was just empty or sold out.
Read on because we found some really reasonably priced kitchen cabinet hardware handles!
I ended up gong down the street to two different cabinet supply companies and both of them did not have the items in stock. This seemed to send me the message that almond cabinet door handles are fading out of style. read Find Almond Cabinet Handles