Cabinet Doors Price Ranges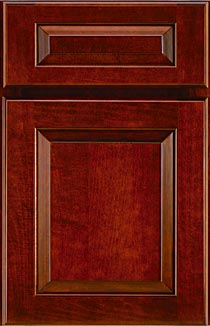 In this article I'm going to briefly touch on the four categories of cabinet doors price ranges. The terms that I will use to describe them will be economy, low priced, medium priced, and high end. Of course there are thousands of styles and colors that can affect the cost of cabinetry doors, but in the industry most doors will fall into one of these four categories that we will be looking at.
Tip: When you are having doors custom made that will be stained and clear coated, ask your manufacture how many coats of finish get put on the doors. There should be no less than three, one to two coats of sealer and two coats of top coat.

Four Categories of Price Ranges For Cabinetry Doors
The Economy Door
Melamine: Most Melamine cabinet doors have a particle board center. On both sides of the core is a very thin layer of hard plastic that I always say is compatible to Formica but thinner.
A special saw is required for cutting melamine without chipping both sides of the board.
The reason these doors are reasonably priced is because 4 x 8 and 5 x 12 foot boards are covered with the hard material in a factory. Cabinet companies purchase the pre-covered boards in large quantities, cut them to size, and then add the edges using a machine that is know as an edge bander.
Laborers load doors into the machine and it heats pre-glued PVC edging tape, places it on the edges, trims and buffs it before it comes out of the machine. The cost of one 4 x 8 foot sheet of this material varies from $15 to $35 in our South Florida area.
Low Cost
Plastic Laminate Formica Cabinet Doors
Mica: The plastic laminate cabinetry doors are somewhat more labor intensive than the economy door. The customer usually has a much larger selection of colors or patterns to choose from than with the melamine material.
Cabinet shops have to purchase the thin mica in 4 x 8 foot sheets and laminate it onto a board. The process of applying the edges is a little different from the melamine door and takes longer. There are three materials needed for making a mica door, the laminate, contact adhesive and the board.
The laminate for the back $15 per 4 x 8 sheet. The board $15 per sheet. The face piece of laminate which could cost anywhere from $35 a sheet to $70 per 4 x 8 sheet. This type door requires more materials and labor to manufacture than the economy door.
Tip: Ask your cabinet manufacture if they use melamine boards to laminate the mica onto when fabricating plastic laminate cabinet doors. If they use this method,  eventually your doors will warp. The pressure on the board must be equal. In order to achieve this both sides of the board need to be laminated with equal thickness of mica. It will cost extra to have the doors manufactured this way but late down the road it will be the difference between having straight doors of warped ones.
Medium Price Range Cabinetry Doors
Thermofoil: These cabinetry doors have several names. They are referred to as MDF doors, which are made from medium density fiber board. Another common name is vinyl wrap. These doors are available in many styles and colors. They average cost for the standard style raised panel look and a basic solid color or simulated wood grain look starts around $13 per square ft. The varying styles and patterns can climb up to $30 per square ft. These are the wholesale prices that cabinet manufactures pay to purchase these doors from huge door manufacturing companies.
High End Cabinetry Door Costs
Wood: The real wood doors are the most expensive of the four categories. For the traditional raised panel five piece door, the base price of the door before any type finish is put on it is around $18 per square ft. For a basic stain and finish for one door it costs around another $25 to have a professional job done. The cost of wood doors varies dramatically because there are so many styles and different types of wood that the customer has to choose from.
Glazing wood cabinet doors costs more than just applying a clear coat over the natural wood. Painting cabinet doors with lacquer a solid color will be priced higher than staining them and applying a clear coat on top.
Some wood cabinet door finishes are extremely expensive because they require multiple applications of different colors of stain, sealers and top coats to achieve the high-end final product.
Cabinet Door Costs
As previously mentioned, these are just brief descriptions of what some cabinet door costs might be. All of the prices referenced are based on price ranges in the South Florida area. Please take note that these are the wholesale costs that cabinet manufactures have to pay for the products, not the retail cost that you as the end user get charged.
There are many costs that affect the final price of cabinetry doors that I did not mention. Things like shipping costs and overhead expenses that every business has to factor into the price of all of the goods sold.
For the most part, you always get what you pay for. Cabinet door styles vary and so do the price ranges. Within each style of kitchen or bathroom cabinet doors there are various prices ranges. For instances, if you order distressed kitchen cabinets they will cost more than shaker style kitchen cabinet doors.
If you are dealing with MDF styles, a square inside corner door will be priced higher per square foot than a round inside corner door.