Trying to Find Almond Cabinet Handles at Home Depot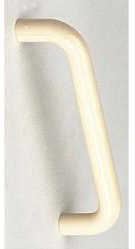 I had a customer the other day who requested that I put 96mm or 3-3/4 inch almond wire handle/pulls on her cabinet doors. I thought I would be able to find them in stock at Home Depot or a local cabinet supply company.
I was totally mistaken.
There were no almond nylon (plastic) loop pulls on the shelves of the super center.
In fact there was no evidence that a bin had that style and was just empty or sold out.
Read on because we found some really reasonably priced kitchen cabinet hardware handles!
I ended up gong down the street to two different cabinet supply companies and both of them did not have the items in stock. This seemed to send me the message that almond cabinet door handles are fading out of style.
Getting a Discount Through a Wholesale Company
I decided to purchase them through a cabinet supply that would sell them whole sale, but we would have to wait a short while. I as able to get a great discount because I have a business account established with them
When I called my customer to tell her that they were going to have to be special ordered and it would take two weeks, she was a little disappointed. Then when I explained that they were only going to cost about forty eight cents per pull, she was eager to wait for them to arrive.
Why Did the Almond Handles Cost so Little?
As I am writing, I'm reminded of an article I wrote on How to Save Money on Cabinet Pulls.  Here's a short excerpt: "Find a local cabinet manufacturing company and see if they will order them for you at a wholesale price from the cabinet supply company that you found them at. Usually the cabinet manufactures prices will be cheaper. Just tell them that you're looking to save a few dollars by ordering the cabinet pulls from their company. "
One thing I did notice tough, while shopping for the almond wire pulls, is that there were still white wire pulls on the cabinet hardware shelves at Home Depot. When I went to the other supply chains they also had plenty of white handles in stock. White has always been a foundational color for kitchen and bathrooms. I don't imagine that they will ever be taken off of the shelves and placed on special order.
When Did Almond Handles Become Popular
In South Florida, where I learned the cabinet trade, almond cabinetry really became extremely popular in the early eighties. That's been over thirty years ago. Wow, how time flies. I think the rapid growth of condominium building and European cabinet fabrication during that era collided. There were thousands, if not millions, of cabinet doors fabricated using almond melamine during that time in our small coastal city.
Well, enough rambling. It makes perfect sense though, not being able to get loop handles in almond. The Home Depot cupboards supply isle is keeping in stride with current trends and doesn't have a special order department for cabinet hardware.
The best place to find wire almond pulls is going to be from a wholesale/retail cabinet supply company.