Reasons a Shop-Vac Helps With Cabinet Work
It may seem like one more thing to haul around, but you need to use a shop-vac when fabricating, installing or fixing cabinets. This is a very handy power tool that will be worth the investment. The five gallon size is a good all-around size for just about anything that you will be doing on the job site. In the manufacturing plant, you will need a larger one.
In the Shop
If you have an air compressor in your shop, you can just blow the dust out of the cabinets when they are completed and ready to be delivered and installed.
If you have drilling machines you can use the vacuums to collect dust. One of the things that I did with a larger vacuum is I used it for my European hinge drilling set up. It worked so well that it completely removed all of the shaving and dust from the work table as I was drilling the cabinet doors for hinges.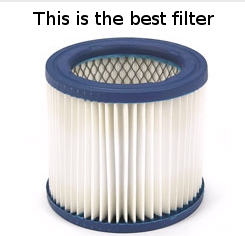 Not everyone can afford expensive dust collectors so a decent size shop-vacuum can be a very handy thing for keeping your work areas free from dust.
On The Job Site
Anytime you remove cabinets there is a mess. The shop-vac is a must when you are tearing out cupboards.
When working in customer's homes (not new construction) it's very important to eliminate all traces of dust as soon as possible. This is where a small portable shop-vacuum comes in very handy. Customers will appreciate your company more if you treat their kitchen or bathroom vanity areas with respect as you're working in their house.
When Repairing Cabinet Drawers
Sometimes it's necessary to remove all of the contents inside a cupboard drawer if you are making an adjustment or installing new handles on cabinets. Because you don't have to remove the drawer from the cupboard all of the dust particles gather inside of the drawer. This is a great place to use the shop-vac.
All Types of Cabinet Repairs and Alterations
If you plan on fixing any cupboards that will require reconstructing the boxes, tearing out old water damaged cabinet parts or switching out countertops, a shop-vac should be present. It works great for getting up the old musty smelling water soaked particleboard flakes and for keeping the work area clean.
Installing Cabinets
If you are remodeling your kitchen, there are many uses for the shop-vac. It is one of the tools needed for installing cabinets.
After you remove the old cupboards, vacuum all of the thirty year old dust up that the original drywall and cabinet installers never cleaned. It works great for sucking up dead or alive roaches too.
Even if you are using drop cloths while installing a set of kitchen cabinets, you should periodically shake them off (outside of course) and vacuum the floor really well. You are going to be drilling and cutting a lot in the kitchen or bathroom area. Even if you have your table saw or chop saw set-up outside, there will be significant amounts of dust inside that will need to be cleaned up.
Base Cabinet Installation
Before installing base cabinets, vacuum the area really well with the shop-vac. Any small chips of concrete, old tile grout, or wood chips can really create problems and make your cabinets unleveled. When drilling for plumbing in a sink cabinet, there's always a lot of fine dust that accumulates inside the box. When the job is complete, use the shop-vac to clean out the roll-out drawers, regular drawers and all around the cabinet toe kick plate areas.
Upper Wall Cabinet Installs
When installing upper cabinets, this is where a lot of dust gets created. It's because you have to drill enough holes for the cupboards to hang safely on the walls. There is plenty of dust to vacuum up with the shop-vac. After you have the wall cabinets installed, the shop-vac work great for getting all of the dust off of the backs of the cupboards. You should do this prior to installing the selves.
Resurfacing Cabinets or Countertops
If you are recovering old cabinets with new plastic laminate, you must have a shop-vac. Of all the cabinet work there is to be done inside of someones home, recovering cabinets with Formica is the messiest job of all.