Flat Screen TV Fireplace Cabinet Fabrication
A flat screen plasma television (TV) that looks like a fireplace caught my attention as I was looking through videos on Youtube. The couple who created this built-in cabinet for their high-in home was featured on the HGTV rate my space website. The project was later featured in their magazine as well.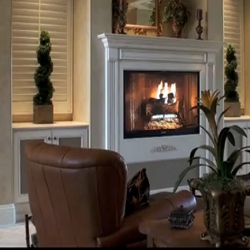 The media wall they designed was created to make the TV area look like a real fireplace. Although there is not a hearth, there is a beautiful custom made mantel that enhances the illusion of having a fireplace.

The built-in cabinet idea originated from wanting to have a flat screen over a fireplace, but the problem was that the room was just not big enough. There were concerns that they would have cramped necks because the television would have needed to be so high. They also thought that there would be too much heat emitted in the room for it to be a comfortable atmosphere for sitting for long periods of time watching movies, sports or TV programs.



They designed the area for the fake fireplace around using a fifty inch (50″) Samsung plasma TV. They decided that their combined-moderate finish carpentry skills were not good enough to fabricate the mantel area over where the cabinet would be. So, they hired a professional to make the twenty four inch deep shelf that they designed to be laced with crown molding.
After he was finished, they designed the cabinet and frame work that would make the TV look completely built-in. The materials they used were poplar and medium density fiber board (MDF). The husband and wife team fabricated the cupboards and doors themselves.
This high-definition fireplace television cabinet area was elevated off of the floor enough to place speakers and any other electronics underneath. The couple then built framed cabinet doors to hide the components, wires and tiny Bose speakers.
They finished off the project by painting all of the woodwork white and then added an antique effect to the final finish.
When they turn the fireplace DVD on, it looks just like the real thing. This is one of the most creative living room cabinet ideas I've ever seen. The flat screen plasma TV can be a fireplace or a television set with the push of a button.